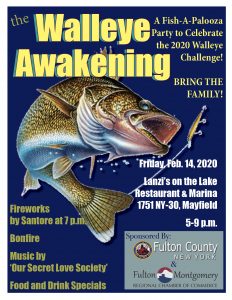 Fulton County Tourism To Host Inaugural Walleye Awakening Event
The Fulton Montgomery Regional Chamber of Commerce and the Fulton County Board of Supervisors are proud to announce a new tourism event, "The Walleye Awakening" set for Friday, February 14.
This free, fun, family-oriented event begins at 5 p.m. at Lanzi's on the Lake, 1751 State Highway 30, in Mayfield. The outdoor party will celebrate the annual Walleye Challenge fishing contest, which brings more than 1,700 contestants to the area. Members of the public are invited to join the fun, along with the fishing contestants and their families. Activities will include a bonfire, Lanzi's food and drink specials, and a fantastic fireworks display at 7 p.m. by Santore World Famous Fireworks.  "Our Secret Love Society," a popular local band, will play music outside from 5-9 p.m., performing a modern mix of classic rock, folk rock, and dance tunes.
"We are happy to showcase our beautiful area with a new event for our local and visiting fishing enthusiasts," Mark Kilmer, President of the Chamber said.  "It is an excellent start to a wonderful weekend at the Great Sacandaga Lake."
Fulton County Administrative Officer Jon Stead expressed his excitement about the new event as well. "The Walleye Awakening is going to be a fun winter beach party for area residents and visitors to enjoy.  It will be a great big Fish-a-palooza party to kick-off the weekend festivities.  I can't wait to get there!"
"This is going to be a unique and enjoyable tourism event for our area," Chamber Director of Tourism Development Anne Boles said. "It is Valentine's Day, so when you are out and about, stop at Lanzi's to eat or watch the great winter firework show with your sweetie and your family – It's a super way to start your weekend!"
Please visit www.44lakes.com or https://www.facebook.com/VisitFultonCountyNY/ for more information.