I LOVE NY starts the "New York Fall Foliage Report" on September 12 and will continue until the end of the foliage season, around the first or second week in November.  Fulton County has its own "foliage spotters" to participate in this annual report.
Reporting station: Gloversville
Percent of trees predicted to have changed by the coming weekend:  15-20%
Brilliance: Dull
Predominating colors: Mostly green with touches of yellow and orange patches, some brownish/reddish color showing this week

Rating: Just Beginning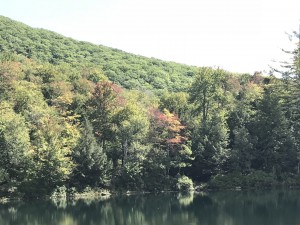 The leaves are just beginning to change with a lot of green some touches of yellow and orange   patches. some brownish/reddish colors also starting to show this week.
Other signs of the fall season are popping up as well with farm having apple picking and mums and   apple cider for sale.
This weekend features an array of events from live music to vendor festivals.
The 24th annual Eagle Mills Art and Craft Show is open again this weekend on Saturday and Sunday. As well as the Pine Lake Craft Fair on Saturday, September 22 from 12:00pm – 6:00pm. Open to the general public and weather will not be a barrier. Large car/auto show is planned in conjunction with this event. Plan on spending an interesting Saturday afternoon at scenic Pine Lake Park.
Come and enjoy the colors of autumn and the many events Fulton County has to offer.
Call for Travel Guides and Specialty Maps!
1.800.676.3858