Call toll free 800-676-3858, email tourism@fultonmontgomeryny.org to request a brochure.
Fulton County Brochure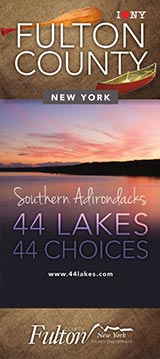 Comprehensive brochure of all that Fulton County has to offer, including information about outdoor recreation opportunities, family fun/attractions, history/museums/historic sites, visual and performing arts, accommodations, etc.
Specialty Brochures
Harvest Tour Map
Snowmobile Trails Map
Great Sacandaga Lake Map
Route 29A Chain of Lakes Hiking Map
Focus of Fulton and Montgomery Counties Magazine
FJ&G Rail Trail Map
For a New York State map and Travel Guide, visit www.iloveny.com.