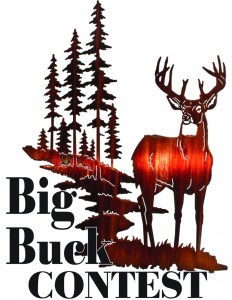 The Fulton Montgomery Regional Chamber of Commerce will host a 2016 weekend-long Big Buck Contest and Wild Game Dinner, Saturday November 19 and Sunday November 20, with all activities taking place at Loopie's Pub, 410 Mohawk Drive, Tribes Hill, NY.
The contest takes place during the opening weekend of southern zone deer season (rifle/shotgun/crossbow).  For the event, the Chamber is partnering with Tom Georgia, Brent Phetteplace and a host of volunteers to help promote the great hunting resources and related businesses in our region.
"Fulton and Montgomery Counties have some of the best year-round hunting and fishing opportunities in New York State," said Event Chairman Tom Georgia. "Partnering with the Chamber offers access to the many great businesses that support our outdoor resources."
Weigh ins, lunch and dinner will all take place at Loopie's Pub, 410 Mohawk Drive, Tribes Hill.  Participants are invited to enjoy a free luncheon each day from 11am-3pm at Loopie's Pub.
The contest's Wild Game dinner will also take place at Loopie's Pub for participants on Sunday, November 20 at 6:30pm.  Keynote speaker will be NY State Senator George Amedore.  Prizes will be awarded at the dinner and raffles will take place at that time.  Paid participants will also be entered into a drawing for six guns and hunting-related table prizes.
There will be cash prizes totaling $1200 including for Heaviest Buck; Heaviest Doe; Most Points (1 inch or more); Largest Outside Spread; Tallest Spike Horn; and Closest Deer (buck or doe) to 125 lbs. without going over.
Entry fee is $25 for adults 16 and over, and $20 for youth ages 14 and 15.  Entry forms can be found on the Chamber website at www.fultonmontgomeryny.org (under the News and Events tab) at the Chamber's offices in Gloversville (2 N. Main Street) and in Amsterdam (1166 Riverfront Center), and at the following Chamber member businesses. Details can also be found on Facebook on an event page through the Chamber.
Frank's Gun Shop, 3549 State Highway 30, Gloversville
Fuel-N-Food, 3006 State Highway 30, Gloversville
Jim's Bait Shop, 118 Ext. Second Avenue, Mayfield
Loopie's Pub, 410 Mohawk Drive, Tribes Hill
Pine Tree Rifle Club, 419 Johnson Avenue, Gloversville
Runnings, 233 Fifth Avenue Ext., Gloversville
Frank's Gun Shop is the main event sponsor (10-point sponsor).  Other sponsors include Runnings, Judith-Ann Realty, NYS Senator George Amedore, Mohawk Valley Firewood, Brown's Ford, Kingsboro Lumber and Loopie's Pub. For more information about the contest or sponsorship opportunities, contact Tom Georgia at trgeorgia@frontiernet.net or call (518) 258-9448, or Terry Swierzowski at the Chamber at (518) 725-0641 or terrys@fultonmontgomeryny.org.