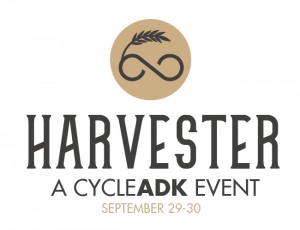 Two-Day tour features the agricultural landscape and rich history of Fulton County
Cycle Adirondacks will cap its 2018 bicycling season with a brand new fall event, the Harvester slated for September 29-30 in Fulton County. The two-day family friendly road cycling event will be based at Johnson Hall State Historic Site in Johnstown and feature the pastoral agricultural landscape and rich history of Fulton County and the southern Adirondacks.
Registration, now open at CycleAdirondacks.com, includes fully marked and supported cycling routes for all abilities levels, meals, route snacks and entertainment. Not to mention unique stops at historic sites and farms in picturesque Fulton County during peak fall foliage.
"Fulton County is abundant with a rich history and scenic beauty along with an active cycling population. Partnering with Cycle Adirondacks to host this new event was the best way to showcase all three," stated Gina DaBiere-Gibbs, Director of Tourism for the Fulton Montgomery Regional Chamber of Commerce. "Recreationally, Fulton County offers the FJ&G Rail Trail, mountain biking trails, a triathlon, and a cycling club. Cycle Adirondacks has visited Fulton County in the past with their weeklong tour as well. That event was very well received with cyclists and our local communities. We wanted to build off of these successes and create an event to highlight our historic sites, agriculture, scenic beauty, and benefit our local businesses."
Additionally, partial proceeds from the event will benefit the Fulton Montgomery Regional Chamber of Commerce's Scholarship Program, which was established in 1986 to provide financial assistance and incentives for students interested in pursuing a course of college study.
"The Chamber gives out scholarships annually to eligible high school seniors graduating from a Fulton or Montgomery County high school or applicants who have previously graduated from a Fulton or Montgomery County high school. We receive between 60 and 80 applications per year from all over the region and has awarded over $120,000 in scholarship funds to Fulton and Montgomery County high school seniors," added DaBiere-Gibbs.
All cycling routes will start and finish at historic Johnson Hall. In between, guests will experience calm rural roads offering an up-close look at the beautifully diverse landscape of the Mohawk Valley and southern Adirondacks. All while visiting with those who work the land, preserve the history and call this special place home.
"Connecting people with place is a key component of any Cycle Adirondacks bicycle tour," said Cycle Adirondacks Matt VanSlyke. "We strive to provide an experience that's authentic and unique. Our guests travel far and wide to explore the world on their bicycles and it's our mission to show them why Upstate New York is the finest place to ride."
Harvester registration will include light breakfast options both Saturday and Sunday morning at Johnson Hall featuring fresh fruit, bagels with local cream cheese, assorted local and homemade baked goods as well as coffee/tea, juices and water from Black Tie Catering.
Following the Saturday ride, the event goes big with a finish line BBQ at Johnson Hall complete with pulled pork, bone-in smoked chicken, pasta salads, fresh strawberry salad, grilled herb vegetables, assorted desserts, coffee/tea and other assorted beverages. The BBQ will also feature local craft beers, ciders and live entertainment from the Insolent Willies from 1-4 p.m.
And best of all, the finish line BBQ and entertainment is a community event open to all which flows perfectly into the annual Bacon Jam set for later that afternoon in downtown Gloversville.
Event lodging for those visiting from out of town is widely available within a short distance from Johnson Hall. Complete event details and event registration is available now at CycleAdirondacks.com/Harvester.
DETAILS
2-Day noncompetitive bicycle tour with multiple fully supported daily rides for all ability levels
Routes feature fall foliage, incredible landscape, farm and historical stops.
Registration includes three meals, complete route, medical and mechanical support, off-bike activities, entertainment and an event T-shirt
Registration and complete event schedule is now available at CycleAdirondacks.com.
Cycle Adirondacks
Cycle Adirondacks mission is to grow and support bicycle tourism in New York's Adirondack Park and surrounding region. Created in 2015, Cycle Adirondacks began as a weeklong road cycling tour designed to connect people with some of the most spectacular landscape and communities in North America. What resulted is a world-class ecotourism company that continues to help strengthen the Northern New York economy.