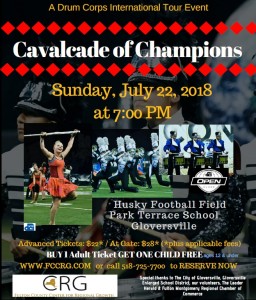 Click HERE for Tickets!
Fulton County Center for Regional Growth is excited to announce the return of the Cavalcade of Champions Drum Corps Exhibition on July 22, 2018!
It's been 30 years since Fulton County has heard the exciting sounds of the drum corps and the show is expected to welcome them back with style. The Cavalcade of Champions will be a high-energy choreographed performance featuring dozens of marching drummers, brass musicians, and costumed color guard performers.
The Cavalcade of Champions will be held on Sunday, July 22, 2018 at Husky Football Field. Tickets are available online at www.fccrg.org/events-in-fulton-county/cavalcade-of-champions/ or at local venues and will also be available at the gate. Gates open at 5:30pm for a 7pm show.
Four of the country's top corps will be performing in Husky Football Field at Gloversville's Park Terrace School 50 Bloomingdale Avenue, Gloversville, NY. The stadium gates open to spectators at 5:30pm and the show starts at 7pm.
The corps are competing for a place in this year's DCI Nationals Finals and will be performing their 2018 repertoires. The four competing corps are:
7th Regiment of New London, CT 7thRegiment takes its name from the last Civil War unit to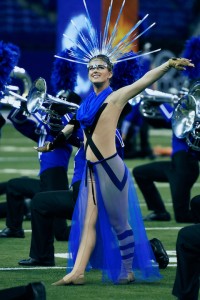 leave Fort Trumbull in the corps' hometown. After first competing in 2003, "7R" has been an Open Class finalist each year since 2009 and is the current three-time defending DCI Drum Line Battle Champion. 7th Regiment proudly represents the local community in New London and the state of Connecticut. They will perform In a Different Light.
Legends of Kalamazoo, MI. Established in 2006, Legends Performing Arts sponsors the Legends Drum & Bugle Corps, Legends Drum Corps Open (Southwest Michigan DCI event), and Legends Drum Corps Invitational (Southeast Michigan DCI event). First competing at the DCI World Championships in 2008, Legends has been recognized with an impressive string of Most Improved Open Class Corps awards in 2009, 2012, and 2015. The Kalamazoo based group has finished as an Open Class Finalist every year since 2009 and recently was an Open Class Bronze Medalist in 2016 and 2017. The Legends will be performing "Along Came a Spider."
Raiders of Burlington, NJ.  The New Jersey-based Raiders Drum and Bugle Corps was founded in 1990. First competing regionally in 1991, the group made its inaugural trip to the DCI World Championships a year later. A finalist in its division every year since 2001, Raiders won the DCI Division III World Championship title in 2005. The drum corps operates as part of the A+ Education and Performing Arts organization.  The Raiders will performBeowulf: Rise of a Legend.
The Spartans of Nashua, NH. The Spartans have laid claim to four DCI Division II World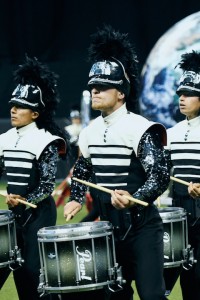 Championship titles since its founding in 1955, most recently in 2007. The corps has earned numerous silver and bronze medals and was the 1999 Spirit of Disney award winner. The only competitive drum corps in New Hampshire, Spartans has had the privilege of playing for eight different United States Presidents. The Spartans will be performing Da Vinci's Workshop.
Pre-event tickets can be purchased online from CRG's website via credit/debit card.  Pre-event tickets can also be purchased locally (cash only) for $25 per person at the Mohawk Harvest Cooperative Market (30 North Main Street, Gloversville) and CRG's office (34 West Fulton Street, Gloversville).  Day of event tickets will also be available at Husky Field at $30 per person. FREE Child Ticket with the purchase of an Adult Ticket (child = age 12 and under).
Special group pricing is also available.  Please call us at 518 -725-7700 for more information or email Becky Hatcher at beckyh@fccrg.org.
On the day of the event, spectator parking around the event site will be at a premium. The City of Gloversville Transit System has agreed to provide a shuttle service for spectators from the public parking lots in downtown Gloversville along Elm Street, to the Park Terrace School. This will also allow attendees the opportunity to arrive early and visit the restaurants and shops along downtown Gloversville's Main Street. Please look for event parking maps and bus schedules at www.fccrg.org, under the events tab.