Eighteenth-century African life and customs will be highlighted during the program "African Traditions in Colonial New York"  at Johnson Hall State Historic Site on Saturday, October 7 from 11am to 4pm.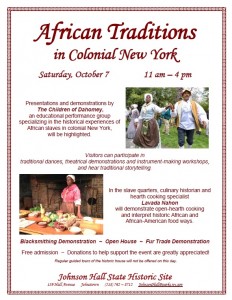 The Children of Dahomey, an educational performance group specializing in the historical experiences of African slaves in colonial New York, will demonstrate aspects of traditional African culture that were preserved and practiced despite the bondage of slavery.  Also, a dramatic presentation of To Be So Confin'd: Complexities of Slavery in 18th Century New York will be performed by Donald Hyman and Frederick Jones, examining the complexities of northern slavery and the nature of that bondage within one household.   In addition, culinary historian, hearth cooking specialist and independent scholar Lavada Nahon will return to the slave quarters at Johnson Hall to demonstrate open-hearth cooking and interpret historic African and African-American food ways.   There will also be blacksmithing by Olaf Jansson and fur-trading demonstrations, and an Open House of the Hall will be held.  Refreshments will be available for purchase.  A schedule of the various events will be posted that day.
The Children of Dahomey will invite visitors to participate in traditional dances, theatrical demonstrations and traditional instrument-making workshops.  Traditional storytelling will also be presented, utilizing African, Caribbean, and African-American folktales in their traditional manner to teach life lessons, values, and mores while thoroughly entertaining audience members of all ages.  Education about the reality of life as an African slave is interwoven throughout each presentation.
Performers, based out of the New York City area, include Judith Samuel, Keith Johnston, Babalawo Neil Clarke, Marcha Tracey, Lloyd Crosdale and Vesta Walker.  Company members have performed and taught extensively worldwide as solo and ensemble artists.
Samuels explains their name derives from Haiti, known as a "Child of Dahomey" because so many Africans from Dahomey (now the Republic of Benin) were kidnapped and enslaved in Haiti during the Transatlantic Slave Trade.  These African/Haitians refused to allow their culture to be forgotten or destroyed. They hold the proud legacy of being the only nation whose enslaved freed themselves from slavery.
Nahon, a native of Texas, has spent over 20 years studying the culinary culture of the Mid-Atlantic region from the 17th through 19th centuries, and is now expanding her interest into the Northeast.  She has shared her research and knowledge through lectures, demonstrations, workshops and cooking classes throughout the country.
Johnson Hall, the 1763 Georgian estate of Sir William Johnson and Molly Brant, today interprets their family life through guided tours of the period room settings, educational programs and special events.
Johnson Hall State Historic Site is located at 139 Hall Avenue in historic Johnstown. For more information, write JohnsonHall@parks.ny.gov,  or visit www.facebook.com/johnsonhallstatehistoricsite or www.friendsofjohnsonhallny.org.