Bacon Jam – Downtown Gloversville's Bacon and Music Festival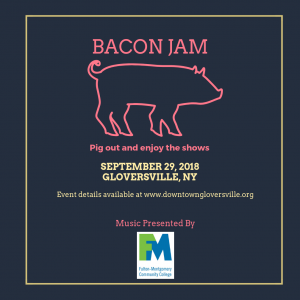 Join your friends, family and neighbors on Saturday, September 29th from 4 p.m. to 8 p.m. at the Farmers Market Pavilion between Elm and Bleecker Streets in Gloversville for a day full of bacon and music.
Bacon Jam is a bacon and music festival open to everyone! Entry is free to the event. Area food vendors will be on-hand featuring bacon-centric food. Stop by and listen to live, local bands.
A beer garden will also be available for a $5 entrance fee with beers sold by the glass from local breweries including Stump City Brewing, RS Taylor & Sons, and Nine Pin Cider.
Thank you to our music sponsor: Fulton Montgomery Community College.
Full details on the event are available at www.downtowngloversville.org. Questions? Call us at 518.725.7700 ext. 1004.