This edition features local author, Emily Juniper.  You can find her poetry collections (A Strangely Wrapped Gift, Swim, Things I Learned in the Night) and YA novel (Rafa and the Real Boy) on Amazon.com and other online retailers wherever books are sold.   Please visit  www.emilyjuniperpoetry.com and follow her current works on Instagram, @by.emilyjuniper
Enjoy her perspective and try the day out for yourself!
A Charming Day in Northville: Lapland, Woods Lake, and More.
by Emily Juniper
I have never been cross-country skiing in my life, but when I was asked if I'd like to try it, I couldn't say no. A trek with friends through the beautiful Adirondacks after months of quarantine and nothing new or stimulating to do sounded like a dream, and in short, it was.
When my partner and I arrived at Lapland Lake Nordic Vacation Center (www.laplandlake.com) which is just along the border of the Adirondack State Park–we were greeted by friendly employees clad in brightly colored ski gear, and Finnish music blaring from the speakers of the visitor center (I later found out the founder Olavi Hirvonen, a Finnish-American as well as a former Olympian). Current operators Paul and Kathy Zahray continue the Finnish traditions, as they brought Lapland in 2014 and kept everything the same.
Snow fell gently in the surrounding woods, and there was an air of excitement that comes with trying something new that everyone seems to be enjoying. I felt like I had walked out of quarantine and into a Scandinavian storybook.
After we rented our skis and zipped up our boots–the rentals are very affordable as far as winter recreation goes, and the process was quick and efficient (as well as staff are adhering to COVID-19 guidelines, please see their website for updates and safety initiatives)–we shuffled to the trail across the street and I clipped the toe of my boots into the skis. The "push and glide" motion of crossing-country skiing is definitely harder than it looks, but the trails were packed down and groomed with ski lanes. Within minutes, I felt like I had the hang of it (though if I'm being honest, there were a few five-year-olds metaphorically "skiing" circles around me). Lapland has over thirty-eight kilometers of groomed cross country ski trails, many of which are one way, which makes the experience less daunting for newcomers like me. Lapland also has ungroomed trails for the more experienced, snowshoeing, and they offer lessons, day passes, and cabin rentals as well.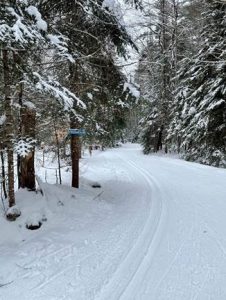 Trail to Woods Lake
Since we were beginners, our party decided to tackle the three kilometer loop to Woods Lake and back. The trek was beautiful, peaceful, and exactly what I needed to break the monotony of pandemic fatigue. Even though the center itself was bustling with people, we rarely encountered others on the trail. The trail we took went through a forest of pine trees right to a frozen lake, which we were able to traverse on our skis as well. The air was fresh, we were too busy to look at our phones, and we got a pretty good workout while we were at it.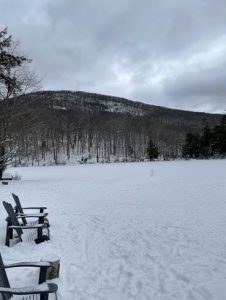 View at Woods Lake
 When we finished the loop and found ourselves back at the rental center, we returned our equipment, and although The food truck outside the building looked tempting, we had already made lunch reservations elsewhere.
Upon leaving Lapland, red-cheeked and invigorated, we headed into Northville (http://www.villageofnorthville.com/about-us/attractions/) , a quaint town in Fulton County on the shores of the Great Sacandaga Lake. The town is quiet yet inviting, with Cooperstown-esque small town charm. We went to the Northville Five and Dime Store, which is the oldest operating 5 and 10 store in the U.S. still operating today (http://northville5and10.com/). There was an array of old school ten-cent candies for sale, which I have to admit was almost the highlight of the trip (when is the last time you saw Bazooka gum, Charleston Chews, Atomic Hotballs and Razzles all in the same place? I'm thirty-one, and even I couldn't resist filling up a bag with my favorites).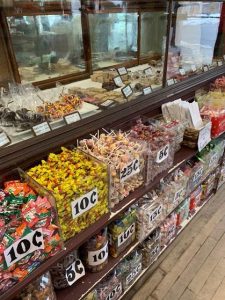 Delicious homemade fudge and the penny candy at the Northville 5&10
After the 5 &10, we went to The Flower Barn (https://www.flowerbarnandgifts.com ), which is a lovely mom-and-pop shop featuring fresh flower bouquets,  jewelry, unique home decor, and treasures made by local artisans.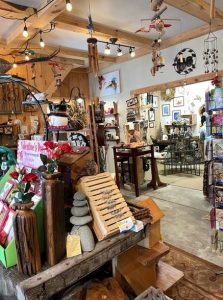 Inside The Flower Barn, owned and operated by Bob and Sally Peck
 Mondays are a bit quieter in the village, but there are many more stops and restaurants to choose from. Before you head on your way back home, take the time to go across the bridge to visit the family owned and operated stores, art galleries, and restaurants. You'll be glad you did!
Our final destination was lunch, which we had at Lanzi's on the Lake, a restaurant and marina on the lakefront (http://www.lanzisonthelake.net/ ). The restaurant is a hit with locals (which is usually a good sign), and as we sat and ate we watched snowmobilers come and go across the lake, stopping into Lanzi's for a drink or some wings. Admittedly, the restaurant did not have many options for vegetarians that day , but they made up for it with the beautiful lake-side view, and cozy interior where we warmed up, had a drink, and enjoyed a socially-distanced meal out.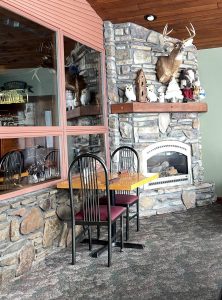 Inside the Adirondack Room – Lanzi's on the Lake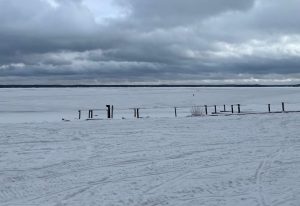 Lunch views at Lanzi's on the Lake
By the time we were heading back home to Albany, I was already asking my partner when she wanted to go back to Lapland to try snowshoeing and take a similar foray around the town. All in all, we experienced everything you could want in a day out–fresh air, exercise, good food, warm company, beautiful views, and a little something to take home to remember it all by. I would highly recommend the experience to anyone looking to get out this winter (and let's face it, who isn't?), and it was more than worth the hour drive.
*****
Emily Juniper is an LGBTQ+ writer and author from upstate New York. She is an advocate for animal rights and mental health in teens and young adults, particularly OCD awareness. You can find her poetry collections (A Strangely Wrapped Gift, Swim, Things I Learned in the Night) and YA novel (Rafa and the Real Boy) on Amazon.com and other online retailers wherever books are sold.