Be a Tourist In Your Own Town: Royal Mountain Ski Area
Featured Writer: Andy Heck- President at Alpin Haus
Caroga Lake NY is home to Royal Mountain, a great family ski area for all ages and abilities.
The Alpin Haus family has had a very long and great relationship with Royal.  Each year Alpin Haus sells pre-season passes,  (please visit www.alpinhaus.com for locations and hours) to customers.  Alpin Haus also has a youth ski lease program for families who are looking for a great experience.  Since the first store opened, Alpin Haus has become the place to go for all-season supplies. Snowmobiles, ski, and snowboard clothing, as well as personal watercrafts, boats, pools, spas, recreational vehicles, and patio furniture are available all year long.
Royal Mountain Ski Area (www.royalmountain.com) is conveniently located in the foothills of the Adirondacks, in Caroga Lake NY. Royal is about an hour away from Albany and Utica. It is a family mountain with 3 chair lifts, from beginner slopes to expert trails.  Jim Blaise built a great business from the ground up, and has been a great transition to new owners Jake and Brooke Tennis, who are continuing the Royal tradition of a wonderful experience.
Andy writes: "When you go to Royal Mountain everyone is like family there.  From the staff to the skiers-everyone is friendly and are happy to see each other.  This year with the pandemic it has been so great to see families being able to be outside together getting fresh air and having a great time.  The lodge and lifts are all following protocols to ensure everyone is safe.  It is a great place to enjoy the beautiful Southern Adirondacks.  The lodge looks great, fire pits are awesome, and as someone who has been very cautious regarding COVID safety, I was very comfortable."
"For families they have a great program to teach kids how to ski. When my kids were young they learned on the bunny hill before graduating to the big part of the mountain.   Now for me my typical day is going early on a Sunday morning and heading out as the lifts open for the day.  I often go by myself knowing I will run into others I know at the ski lift.  For instance, one day I ran into a friend I grew up with and we skied all morning together."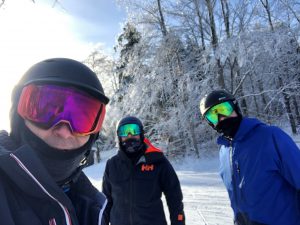 L to R: Andy Heck (President of Alpin Haus) John Toper (Alpin Haus Clifton Park Ski manager) Charles Weitz (Amsterdam RV Outfitter)
"For the trails themselves, my favorite is the Royal. Royal is the beautiful black diamond trail you see from the lodge.   After a run on Royal, like many skiers I move through all the different trails.  During the year when the snow is bountiful I even head in the woods for some great glades skiing.   Regardless of your ability there is a trail for you.  One of the best parts of Royal is their commitment to snowmaking.  Every year you know that the trails will be covered with a great base of snow lasting into April.  Each night they groom making the trails perfect each and every day."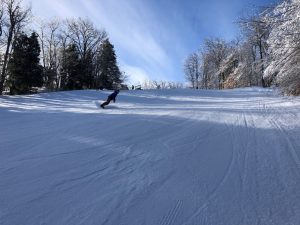 Every year on the Thursday of President's week Alpin Haus hosts a ski demo day at Royal Mountain, where ski vendors come and set up tents with next year skis.  Customers then get to go out on the mountain and test the new product.   Ski reps love how amazing, intimate, and special Royal Mountain is. They go all over the Northeast and say they never get treated as well as they do by us and Royal Mountain.  Due to COVID-19, Demo Day is cancelled this year, but everyone is looking forward to 2022 to continue this fun long-standing tradition.
Before you head home, make sure you check out www.44lakes.com for suggestions on dining and shopping.  Didn't get enough from one day at Royal? Lots of cozy cabin rentals and hotel rooms only 10-15 mins away from the mountain.  Fill up with a dinner from a local restaurant and shop at a family owned business ready to safely serve you.
Enjoy the winter and check out Royal Mountain Ski Area: 3072 NY Route 10 Caroga Lake NY 12032. Phone: 518-835-6445.  www.royalmountain.com  Email: info@royalmountainskiarea.com Find them on Facebook @skiroyalmountain for latest updates and additional information on snowdrag races and other events coming up 2021!