Be A Tourist In Your Own Town- Walk In the Footsteps of Elizabeth Cady Stanton: Cell Phone Tour
Walk In the Footsteps of Elizabeth Cady Stanton
https://www.ecstantonhometown.org/cellphone-tour.html
Take an afternoon to enjoy beautiful historical downtown Johnstown. Downtown Johnstown marks the birthplace of the Women's revolution and suffrage movement pioneer- Elizabeth Cady Stanton. It was a beautiful March Spring day, and in honor of Women's History Month, I thought it would be a great day to check out the cell phone tour.  (https://www.ecstantonhometown.org/)
The tour is narrated by Coline Jenkins, who is the Great Great Granddaughter of Elizabeth Cady Stanton.  She narrates the story with such dignity and grace,  I would sometimes would press a number twice, just so I could hear the story of that spot again.
The tour starts right on the corner of Market and Main Street in Johnstown, and takes you on a mile tour, allowing you to envision the time when she lived here, went to school here, and brought her ideas of Women's Equality to life. You call the number 518-406-7081, and from there you will take a journey and walk the footsteps of Elizabeth Cady Stanton.
*Roaming charges may apply, and even though this tour is free, your minutes will be used.  You can call the number, listen to the history at the site, then hang up and call back for the next stop.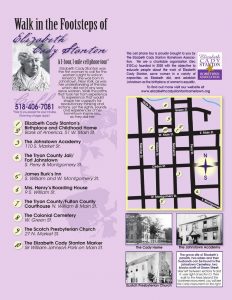 This map is available at https://www.ecstantonhometown.org/cellphone-tour.html
The 10 stops give you plentiful and interesting information. The stops include: where she was born, her fathers law office, her former school (The Johnstown Academy), the old jailhouse (The Tryon County Jailhouse/Fort Johnstown, James Burk's Inn (meeting place of the Daughters of the American Revolution), Mrs. Henry's Boarding House (where Elizabeth and Susan B. Anthony both stayed to write volumes of historical  literature for the Women's Suffrage Movement), The Tryon County/Fulton County Courthouse (stay tuned for details on belated 100th Women's Suffrage Movement Anniversary celebrations).  The stops have nice signs and the tour is easy to navigate.  My favorite fact was at Stop 7 at the Tryon County/Fulton County Courthouse. Elizabeth Cady Stanton and Susan B Anthony held a rally right here in Johnstown to encourage women to vote for the local school board! Could you imagine, to be alive at this time- 2 pioneers encouraging women to vote!)
Look for these signs along the tour. First and Second stop at Elizabeth Cady Stanton's birthplace- now Berkshire bank, 51 West Main St.
Inside the bank is a beautiful tribute and artifacts from ECS, sponsored by the ESC Hometown Association.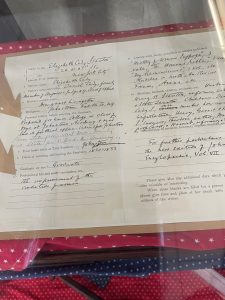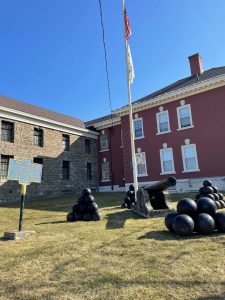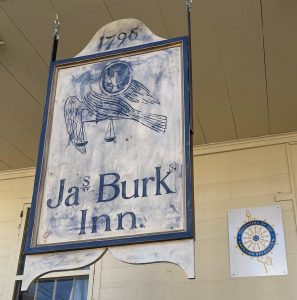 Stop #4- Tryon County Jail, Fort Johnstown
Stop #5, James Burk Inn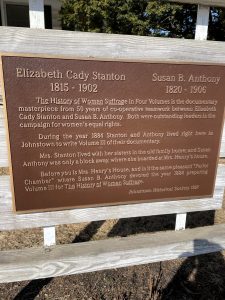 Stop #6- Mrs. Henry's Boarding House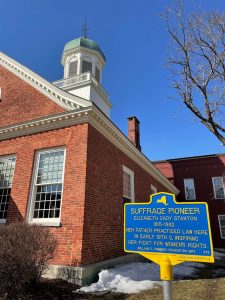 Stop #7- Tyron County/Fulton County Courthouse. Take some time to read the signs and enjoy sights from the oldest working courthouse in America!
Finishing out the tour, you will move on to the Colonial Cemetery, (the grave site of Elizabeth's grandparents).  The last stops are her former church where she was married (The Scotch Presbyterian Church) and the Elizabeth Cady Stanton marker. Make sure you cross the street into the park to see the plaque, and look up to see the beautiful stone work at St. John's Episcopal church.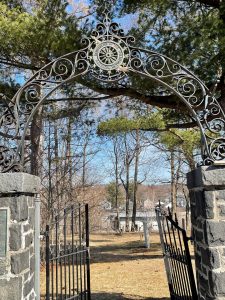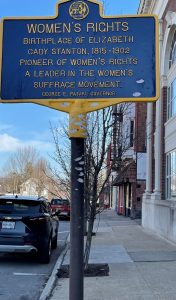 Stop #8- Gate to the Colonial Cemetery
Stop #10- The Elizabeth Cady Stanton Marker
After the tour, it was a perfect time to get a beverage at Second Wind Coffee (FB and Instagram  @secondwindcoffee)  Shaun has tried many times to get me to try something new, but I can't stray from the medium latte with coconut milk.
The lattes are perfection, and the coffee is great too.  Second Wind also has baked goods and sandwiches.   Other great meals are around this area as well. Lunch or Dinner, Downtown Johnstown has wonderful choices.
After your meal, check out the local shops.  If you decide to have dinner and the stores are closed, please check them out online.
Downtown Johnstown Restaurants: please call for availability and reservations.
Union Hall Inn: 518-762-3210                                                                                                               https://www.facebook.com/Union-Hall-Inn-Restaurant-151512999285/about/?ref=page_internal
LaPalma Mexican Grill- 518-848-3172                                                                                                        https://www.facebook.com/La-Palma-Mexican-Grill-276960433237322
Vintage Café- 518-762-0030       https://www.facebook.com/Vintage-Cafe-161269773998351
Partners Pub- 518-762-2337              https://www.facebook.com/lanzispartnerspub
Pete's Snack Bar- 518-762-9074
Hot Dog Hut- 518-762-3678        http://www.hotdoghutcafe.com/
Miss Johnstown Diner- 518-762-1994                                                                                                    https://www.facebook.com/Miss-johnstown-diner-169522306437661
Johnstown Peking In- 518-762-2828  http://www.pekingcorp.com/
Second Wind Coffee-  https://www.facebook.com/secondwindcoffee
Market Street Pizza- 518-762-8615               https://www.facebook.com/MarketStreetPizzaJohnstown
Vince's Pizza and Pasta- 518-736-2828                                                                                              https://www.facebook.com/Vinces-Pizza-Pasta-250497278295017
Hometown Market- 518-848-3343                                                                                              https://www.facebook.com/Hometown-Market-211320725627786
Plaid Giraffe- 518-762-1970
Stewart's Shops – gas and quick food/drinks                https://www.facebook.com/YourStewarts
Shopping:  The Elizabeth Cady Stanton Association has a Women's consignment shop on Main Street, called the Sunflower Shoppe, located on 26 West Main Street. The goal of the shop is to help women and their career clothing needs. I have gotten beautiful name brand clothes and shoes.  The most I have ever spent on a piece (some with tags still on them!) is $5.  Last time I went sweaters were $1 and work tops were FIFTY CENTS.  The lovely staff are always ready to help with what you need.                               Hours: Tuesday – Friday: 11:30am-4pm  Saturday: 10am-1pm     https://www.facebook.com/ecssunflowershoppe/
Other stores include:
Mysteries on Main Street- 518-736-2665                https://www.facebook.com/MysteriesOnMainStreet
Something Special- 518-762-1268                                                                                                        https://www.facebook.com/Something-Special-Johnstown-NY-344399882399750
McLemon's Boutique-
https://mclemonsboutique.square.site/
Toying Around- 518-795-9410                  https://www.facebook.com/ToyingAroundJohnstownNY
Studio Herbage Florist- 518-762-7755               https://www.facebook.com/studioherbage
Fisherman's Supply Christian Bookstore-518-762-3548    https://www.facebook.com/FishermensSupplyChristianBookstore
Indoor Farmer's Marketplace (opening soon)- 518-902-1633 https://www.facebook.com/indoormarketplace
Green Essentials Naturally-  518-239-2020           https://greenessentialsnaturally.com/
Main Motorcar Chrysler, Dodge, Jeep and Ram- 518-762-3183 https://www.facebook.com/MainMotorcar
A&E Sportwear-  518-762-1852
La Villa Dogworks- 518-762-2275              https://www.facebook.com/LaVillaDogWorks
The Game Guys- 518-847-5949                  https://www.facebook.com/gameguys1
Roth School of Art (call for classes)-  518-762-3130                                                  https://www.facebook.com/Roth-School-of-Art-137709936242866
Please check out Downtown Business & Professional's Association Facebook page (@DJBPAssociation) for updates. There are many businesses and professionals ready to safely serve you in Johnstown, and all of Fulton County.
For more historical information: Johnstown Historical Society (https://cityofjohnstown.ny.gov/our-history.html). Our  Fulton County Historian, is Samantha Hall-Saladino (http://fultoncountyhistoricalsociety.org/).                                                                                                         Johnson Hall Historic Site (https://parks.ny.gov/historicsites/johnsonhall/details.aspx)
Drumm House (https://www.mohawkvalleyhistory.com/destinations/listing/Drumm-House)
Please visit www.44lakes.com for all the dining and shopping options in Fulton County, or find us on Facebook on Visit Fulton County NY Facebook page.
Have fun in Fulton County! -Anne Boles, Tourism Director