March 2023
Friday, March 17
Info Family mini golf at the Johnstown Library 12:00 PM– 04:00 PM
Family mini golf at the library.
Free admission/Pantry donation requested!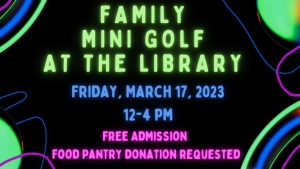 Saturday, March 18
Info Royal Mountain Cardboard Derby 03:30 PM
Cardboard Sled Derby at Royal Mountain to benefit the ski patrol!
You will compete in the age group of the oldest person riding in the sled.
You can race same sled in more than 1 class if you meet the age requirements. Additional class registration fee $5
Class 1: (yellow) age 1 to 11
Class 2: (green) age 12 to 20
Class 3: (blue) age 21 and older
Class 4: Fireman's Challenge
Rules:
*Only cardboard, tape and glue can be used to construct your sled. Decorate it with paint, crayons, etc.
*NO wood, plastic, rope, staples or metal will be allowed. You cannot put anything in your sled to add weight. You will be disqualified if your sled is found to contain these items.
*Keep designs family friendly. No profanity. Wear costumes and have fun.
*Push starts, no running starts.
*Maximum of 4 participants per sled. 3 riders and one pusher. Pusher can jump in the sled and ride after pushing
*2 to 3 sleds will race at one time.
*If your sled tips over, 1 rider can push the sled over the finish line to win.
*Officials at the finish line will determine winner and will make all final decisions on each race.
*Prizes and trophies will be awarded for 1st, 2nd and 3rd place and best decorated in each class.
*Raffle tickets will be available for purchase; drawing will be after derby:   $10 per ticket
1st $1000          2nd $500        3rd $250     4th 2023-2024 ski season pass
*The evening will end with fireworks*
*Follow event information on our FB page: Royal Mountain Ski Patrol. Have questions, message our FB page or email skipatrol@royalmountainskiarea.com