Tickets are still available for the 1st annual Chocolate and Dessert Concert, benefiting the Friends of Johnson Hall beginning at 6:30pm on Saturday, September 22 at the Johnson Hall State Historic Site.  This fundraising event will support the ongoing historic restoration of Sir William Johnson and Molly Brant's 18th century estate.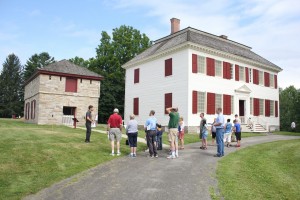 A variety of 18th century hot chocolate drinks will be made and served by Paul Supley of Van Wyck Chocolate House.  Culinary historian Sara Evenson will provide fresh-baked Pippin pies and biscuits with crabapple jelly.  Following the chocolate and dessert, a concert of 18th century music will be held in the Hall's center hallway by Liaison Plaisantes.
While tickets are still available, the event is limited to 40 participants.   Pre-registration and pre-payment of $25 is required, payable to the Friends of Johnson Hall.
The Friends of Johnson Hall is a not-for-profit organization which supports the educational programming and ongoing historic restoration of Johnson Hall.
To make reservations and for more information, call (518)762-8712.
Johnson Hall was the 1763 Georgian-style estate of Sir William Johnson and Molly Brant and their family.  Sir William (1715 – 1774) was the largest landowner and most influential individual in the colonial Mohawk Valley.  His success in dealing with the Six Nations had a lasting impact on their relationship with the English, and largely influenced England's victory in its struggle with the French for control of colonial North America.
The main house and flanking stone houses, originally surrounded by a 700 acre farm, now interpret the Johnson family through guided tours of the period room settings, educational programs and special events.