I LOVE NY started the "New York Fall Foliage Report" on September 12 and will continue until the end of the foliage season, around the first or second week in November.  Fulton County has its own "foliage spotters" to participate in this annual report.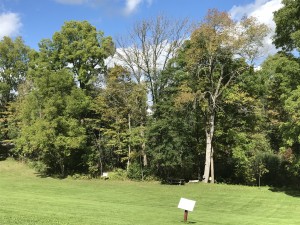 Reporting station: Gloversville
Percent of trees predicted to have changed by the coming weekend:  40%
Brilliance: Average
Predominating colors: Some green with more yellows, oranges and reds coming through
Rating: Beginning to Midpoint
The leaves are nearing the midpoint with more color showing this week in some locations and still predominantly green in other spots.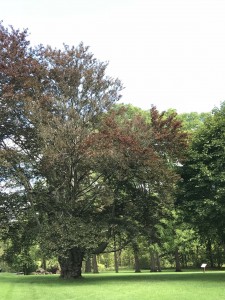 Visit Johnson Hall State Historic Site this weekend for the New York State Path Through History weekend.  "Hunting and Harvesting; Preparing for Winter in the 18th Century"  will take visitors on a journey back to the 18th century to experience what it was like to hunt, harvest and preserve enough food to last the cold and harsh winters.  18th century hunting and harvesting equipment will be on display as interpreters provide a firsthand look at the tools and labor required to achieve the task. Despite all the preparation, equipment and labor, each winter brought the same unnerving question for some: will there be enough food to last until spring?
The event runs Saturday, October 6 from 11am-4pm and admission is $4.00 Adults, $3.00 Senior Citizens and Students, Children 12 and under Free.
On Sunday, October 7, the Sacandaga Valley Arts Network presents Toby Walker.  Internationally and nationally acclaimed Toby Walker has been hailed as an award winning, roots music fingerstyle guitar virtuoso and songwriter who has toured the US, the United Kingdom, and all through Europe. Blending the styles of blues, ragtime, country, bluegrass, old-time jazz and rock, Walker has a style of his own and as such received numerous awards, including being the 1st place recipient of the International Blues Challenge Award in Memphis and the NY Music Award for best instrumental CD. Walker has also been inducted into the NY Blues Hall Of Fame.
Come and enjoy the colors of autumn and the many events Fulton County has to offer.
Call for Travel Guides and Specialty Maps!
1.800.676.3858