I LOVE NY began the "New York Fall Foliage Report" on September 14 and will continue until the end of the foliage season, around the first or second week in November.  Fulton County has its own "foliage spotters" to participate in this annual report.
Reporting station: Lapland Lake Nordic Vacation Center, Northville
Percent of trees predicted to have changed by the coming weekend:  45%
Brilliance: Dull
Predominating colors: Yellows and browns, with some remaining reds and oranges
Rating: Nearing midpoint
The unseasonably warm weather the last few weeks seems to have slowed the change in color.  Typically the region reaches peak around the Columbus Day weekend, but many of the leaves that possessed early color have fallen.  Patches of bright colors are thin but can found.
While the leaf peeping season is less than vibrant this year, there are still many reasons to visit Fulton County.  The event calendar is full with festivals and a variety of events.  It is also Path Through History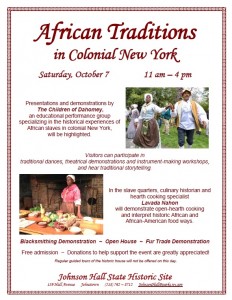 weekend in New York State.
Visit Johnson Hall State Historic Site to learn about the experiences of African slaves in colonial New York featuring presentations and demonstrations by The Children of Dahomey, an educational performance group. Visitors can participate in traditional dances, theatrical demonstrations and instrument-making workshops, and hear traditional storytelling.  In the slave quarters, culinary historian and hearth cooking specialist Lavada Nahon will demonstrate open-hearth cooking and interpret historic African and African-American food ways.  An Open House will also be held with free admission.  Regular guided tours of the historic house will not be offered on this day.
Celebrate the season at the Fulton County Museum Harvest Festival.  This event is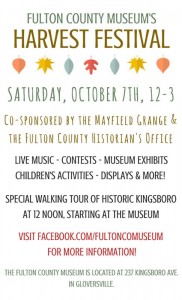 co-sponsored by the Mayfield Grange and the Fulton County Historian's Office. Enjoy activities for all ages, live music, displays by community groups and businesses, and more.  Learn about the history of farming in the area and explore the museum's many exhibits, including the Military Room, FJ&G Railroad exhibit with working model, history of glove making, and lots of other unique and fascinating exhibits. A special walking tour of Historic Kingsboro kicks off the event at 12:00pm; the tour will meet at the Museum.
The Grange is sponsoring a pumpkin and sunflower contest for ages 5 and up with prizes. The Museum will also sponsor a pumpkin decorating contest for kids. This event is free and open to the public.
Visit our calendar for more information on these events and the many other activities in Fulton County.
Call for Travel Guides and Specialty Maps!
1.800.676.3858