I LOVE NY began the "New York Fall Foliage Report" on September 14 and will continue until the end of the foliage season, around the first or second week in November.  Fulton County has its own "foliage spotters" to participate in this annual report.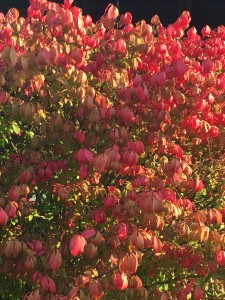 Reporting station: Lapland Lake Nordic Vacation Center, Northville
Percent of trees predicted to have changed by the coming weekend:  35-40%
Brilliance: Average
Predominating colors: Increasing reds, yellows, and oranges, with some brown and purple shades mixed in.
Rating: Approaching midpoint
While there is still green visible, an array of colors are mixing in as depicted in our photos.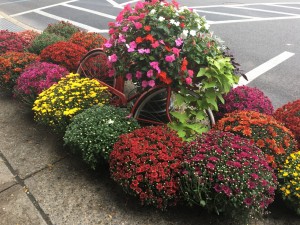 The Mohawk Harvest Cooperative Market has transformed North Main Street in Gloversville with their mums display.  The Co-op has mums for sale and other seasonal local products.
This weekend the 23rd annual Eagle Mills Art and Craft Show continues.  The Bridgewalk at the Perthshire is also having a craft fair.
The 8th annual Fulton County Day on the Farm returns to Rogers Family Orchards, 260 County Highway 131, Johnstown on Sunday, September 24 from 12-4pm.  Support our agricultural community and join your friends and neighbors for this agricultural festival.  Everyone receives a complimentary ice cream cone and a chance to climb the hay mountain.
Horse and tractor drawn wagon rides are always a favorite. Pick your own apples or a wide selection of already picked apples, pumpkins, vegetables, and cider, honey and maple products will be available for purchase. Festival food will be available from vendors.
Exhibitors will showcase oxen, dairy and beef cattle, horses, alpacas, rabbits, poultry and other farm animals. Local producers of Christmas trees, ornamental nursery stock, bedding plants, fruits, vegetables, and fall flowers will be on display. Farm equipment from days past and modern farming technologies will be represented to remind residents that farming remains viable today and important to our local economy.
Come and enjoy the colors of autumn and the many events Fulton County has to offer.
Call for Travel Guides and Specialty Maps!
1.800.676.3858