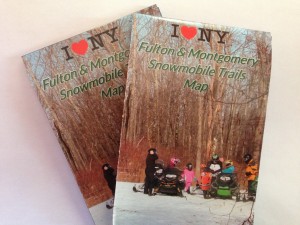 The Tourism Department of the Fulton Montgomery Regional Chamber of Commerce announces the availability of the updated edition of the Fulton and Montgomery Counties Snowmobile Trails map.
"There are approximately 400 miles of snowmobile trails to enjoy between the two counties. The pocket-sized snowmobile map has a new look compared to the previous map," states Gina DaBiere-Gibbs, Director of Tourism for Fulton and Montgomery Counties. "Updates to the trails have been made utilizing geographic information systems (GIS) and local club input making it the most recent trail map available for the two-county region. Snowmobile safety guidelines, snowmobile club information, snowmobile sales and repairs, and other supporting area businesses have been highlighted on the map as well."
For a free copy of the snowmobile map stop in to the Fulton Montgomery Chamber offices at 2 North Main Street, Gloversville, 1166 Riverfront Center, Amsterdam or the Fulton County Visitor Center at the corner of Routes 29 and 30 in Vail Mills.  For more winter activity information call the tourism department at (518)725-0641 or logon to Fulton County's tourism website www.44lakes.com and Montgomery County's tourism website www.visitmontgomerycountyny.com.