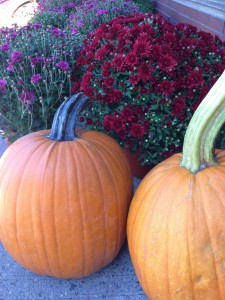 I LOVE NY started the "New York Fall Foliage Report" on September 9 and continue until the end of the foliage season, around the first or second week in November.  Fulton County has its own "foliage spotters" to participate in this annual report.
Reporting station: Gloversville
Percent of trees predicted to have changed by the coming weekend: 10-15%
Brilliance: Dull
Predominating colors: Greenish-Yellow, Rusty Red with touches of Orange
Rating: Beginning
The days are warmer than average and the leaves are slowly starting to change. Higher elevations tend to turn faster than the lower elevations. Scenic rides will be picturesque, as always, but there is still time for leaf peeping.
The apple and pumpkin season is upon us! Call for a free copy of our Harvest Tour map to accompany your Fall Foliage ride. The Harvest Tour map will assist in finding apples, cider, pumpkins, mums, baked goods, and so many more seasonal products.
We also have the Route 29A Chain of Lakes map and the Great Sacandaga Lake map; both maps include attractions, shopping, dining, and much more to help plan your Fall Getaway! Popular harvest season events are starting this weekend. Visit our calendar for more details.
1.800.676.3858