Johnson Hall State Historic Site will hold a free Hands-On History Day on Saturday, June 16 from noon to 4pm.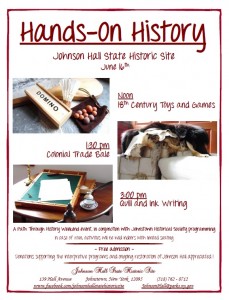 At noon, Senior Interpreter Audrey Humphrey will invite visitors to try out stilts, whirlygigs, draughts, skittles and other colonial toys and games.  At 1:30pm, what kinds of things would be included in an 18th century trade bale will be discovered with Historic Site Manager Wade Wells.  Finally, at 3pm Curator of Education Darlene Rogers will assist visitors in learning about writing with quill pens and ink in the colonial era.
Regular guided tours of Johnson Hall and the slaves quarter will be offered on the normal schedule, beginning on the hour at 10am, with the last tour beginning at 4pm.  Admission is $4 for adults, and $3 for students and senior citizens.
The Hands-On History Day is in conjunction with Johnstown Historical Society programming on the same day.  The Johnstown Historical Society Museum will be open for tours from noon to 4pm.  The Drumm House will also offer tours from noon to 4pm, and will feature musket drills for children and 18th century weaving demonstration on a period loom.  Tours will also be available at the James Burk Inn, which will feature period music and children's coloring activities.   These events are part of the Path Through History Weekend.
Johnson Hall was the 1763 English Georgian estate of Sir William Johnson and Molly Brant.  Johnson was the largest single landowner and most influential individual in the colonial Mohawk Valley.  His success in dealing with the Six Nations had a lasting impact on their relationship with the English, and largely influenced England's victory in the Anglo-French struggle for control of colonial North America.   Today, the main house and flanking stonehouses, originally surrounded by a 700 acre farm, interpret Sir William and Molly Brant's family life through guided tours of the period room settings, educational programs and special events.
Johnson Hall State Historic Site is located at 139 Hall Avenue in historic Johnstown, just off West State Street (State Highway 29 West).  For more information on Johnson Hall and its 2018 special events, write JohnsonHall@parks.ny.gov or visit www.facebook.com/johnsonhallstatehistoricsite   or www.friendsofjohnsonhallny.org.