In conjunction with the City of Johnstown's Colonial Stroll holiday activities, Johnson Hall State Historic Site will hold an Open House on Friday, December 5 from 5pm to 8:30pm.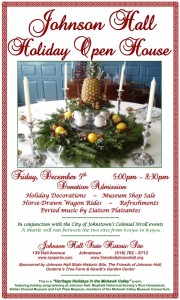 Johnson Hall's first floor will be decorated for the holiday season, where music of the 18th century will be performed by Liaison Plaisantes. Refreshments will be offered in the historic butler's pantry. The museum shop will offer 20% off for holiday shopping that evening. Horse-drawn wagon rides of the mansion's south lawn will be available to visitors between 6pm and 8pm.
In addition, between 6pm and 8:30pm, a shuttle van will loop between Johnson Hall and a shuttle stop on Main Street in front of the park.
The evening's event is free and open to the public. Donations will be gratefully accepted and will be earmarked for the continued restoration efforts of Sir William and Molly Brant's historic home.
Along with Johnstown Historical Society, this year's event is co-sponsored by Johnson Hall, the Friends of Johnson Hall, Goderie's Tree Farm and Hewitt's Garden Center.
Johnson Hall's Open House is the first event of this year's "Heritage Holidays in the Mohawk Valley", a collaboration of Mohawk Valley Museum Consortium member sites to promote holiday celebrations over two weekends. All events are free, with donations gratefully accepted. Visitors should pick up a passport and have it stamped at three of the sites to be entered into a Heritage Holiday gift basket drawing. Joining Johnson Hall are:
December 6 – the Fort Plain Museum will feature "Christmas at the Fort" from 10am to 6pm, with a book signing, crafters and holiday fun – for more information call 993-2527.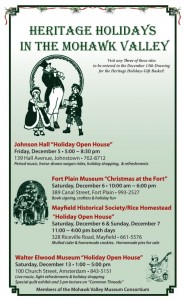 December 6 and 7 – the Mayfield Historical Society's Rice Homestead will hold their "Holiday Open House" from 11am to 4pm each day, featuring mulled cider and homemade cookies, with homemade pies for sale also – for more information call 661-5576.
December 13 – the Walter Elwood Museum's "Holiday Open House" from 1pm to 5pm will feature live music, light refreshments and holiday shopping, and a special quilt exhibit and 3pm lecture by Hallie Bond on "Common Threads: Adirondack Quilts" – for more information call 843-5151.
Johnson Hall State Historic Site is located at 139 Hall Avenue in historic Johnstown, just off West State Street (State Highway 29 West). For more information, visit www.nysparks.com, or email darlene.rogers@parks.ny.gov to be placed on the Site's emailing list.