In conjunction with the City of Johnstown's Colonial Stroll holiday activities, Johnson Hall State Historic Site will hold a Holiday Open House on Friday, December 1 from 5:00 PM to 8:30 PM.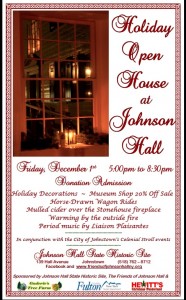 The Hall will be decorated for the holiday season and will feature live 18th century music performed by Liaison Plaisantes in the second floor hall.  Mulled cider and ginger cookies will be served at the Slave Quarters fireplace.  The museum shop will offer 20% off for holiday shopping that evening.  Horse-drawn wagon rides of the mansion's candlelit circular drive, by Fritz-Ann Farms, will be available to visitors between 6:00 PM and 8:30 PM.  An outside fire to keep warm is also planned.
The evening's event is free and open to the public.  Donations will be gratefully accepted and will be earmarked for the continued historic restoration efforts of Sir William Johnson and Molly Brant's historic home.
This year's event is co-sponsored by Johnson Hall State Historic Site, the Friends of Johnson Hall, Goderie's Tree Farm, Hewitt's Garden Center and the Fulton-Montgomery Regional Chamber of Commerce.
Johnson Hall was the 1763 Georgian estate of Sir William Johnson and Molly Brant and their family.  Sir William (1715 – 1774) was the single largest landowner and most influential individual in the colonial Mohawk Valley.  His success in dealing with the Six Nations had a lasting impact on their relationship with the English, and largely influenced England's victory in the Anglo-French struggle for control of colonial North America. The main house and flanking stonehouses, originally surrounded by a 700 acre farm, now interpret the Johnson family through guided tours of the period room settings, educational programs and special events.
Johnson Hall State Historic Site is located at 139 Hall Avenue in historic Johnstown, just off West State Street (State Highway 29 West).  For more information visit their Facebook page or www.friendsofjohnsonhallny.org, or email JohnsonHall@parks.ny.gov.