Johnson Hall State Historic Site will hold two programs which commemorate 18th events that occurred at the site.
On Sunday, July 10th, the historic house will be exhibited in mourning as it would have been in July of 1774 following the death of Sir William Johnson.  Guided tours of the Hall will include interpretation of the mourning practices of the period and a wake with mourners in period dress.  Tours begin at 1pm, 2pm, 3pm and 4pm.  The Hall will then remain dressed in mourning through July 17.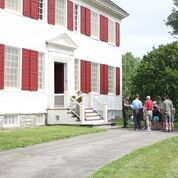 On Saturday, July 16th, Senior Interpreter Michael Perazzini will offer a lecture on "The 55th Regiment of Foot".   Raised in 1755 in Sterling, Scotland, the 55th Regiment of Foot fought in America during the French and Indian War, and members of the regiment were garrisoned at Johnson Hall.  The lecture will follow their exploits up to the beginning of the American War for Independence.   The lecture begins at 11am in the historic mansion, and will be followed by light refreshment.  Tours on this day will begin at 1pm.
Tours of Johnson Hall are offered on Wednesday through Saturday from 10am to 5pm, and Sunday from 1pm to 5pm.  Tours begin on the hour, with the last tour of each day beginning at 4pm.   Site special events and pre-registered groups may alter this tour schedule.
Tours are $4.00 for adults, $3.00 for seniors and students, and free for children 12 years and under.
Johnson Hall was the 1763 Georgian estate of Sir William Johnson and Molly Brant and their family.  Sir William (1715 – 1774) was the single largest landowner and most influential individual in the colonial Mohawk Valley.  His success in dealing with the Six Nations had a lasting impact on their relationship with the English, and largely influenced England's victory in the Anglo-French struggle for control of colonial North America. The main house and flanking stonehouses, originally surrounded by a 700 acre farm, now interpret the Johnson family through guided tours of the period room settings, educational programs and special events.
For more information, visit www.facebook.com/johnsonhallstatehistoricsite, write JohnsonHall@parks.ny.gov, or call (518) 872-8712.