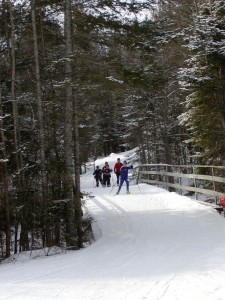 Lapland Lake Nordic Vacation Center will host its two-day annual Open House Saturday and Sunday, November 22 and 23 from 9:00am – 4:30pm each day.
Visitors may enter a Grand Prize Drawing for a choice of any new pair of skis in stock OR a 2014-15 Season Pass Membership. If the individual whose name is drawn has already purchased their 2014-15 Membership, his or her purchase price will be refunded.
During the two-day Open House all new in-stock cross country skis and ski packages will be discounted 30%. All other retail merchandise will be discounted 10% (sale items excluded). Season-long ski equipment rentals ($75 – $180 plus deposit) will be available. Lapland Lake's operator, former US Olympian Olavi Hirvonen, and his carefully trained staff will assist with proper equipment selection and sizing.
A free children's Reindeer Rally will take place at 10am each day. Pat Ferri, PSIA-certified instructor and Assistant Nordic Director, will lead fun and crazy games for children ages 5 – 12 on grass or on skis/snow!
At 3:30pm each day Pat will offer free hour-long wax clinic and ski care tips sessions. All are invited!
Spencer Morrissey, author of Adirondack Skier, a guide to some of the best trails in the Adirondack Park for cross country skiing, will be at the resort's Finnish Line Lodge Saturday from 12:30 – 4pm both days to meet with customers and to autograph copies of his book.
Lapland Lake Season Pass Memberships will be available at normally reduced early-season rates; regular Membership rates will go into effect Monday, December 1st. For the seventh consecutive year all children ages 17 and under will receive free Memberships when at least one parent or legal guardian purchases a 2014-15 Lapland Lake Season Pass Membership!
Open House is free of charge. Facility use fees will be half-price both days for those wishing to ski, snowshoe and tube (conditions permitting). If there is no snow, visitors are welcome to enjoy complimentary hiking on the resort's 50km trail system.
Attendees may visit with Lapland Lake's reindeer at his lakeside home and enjoy complimentary cookies, hot chocolate, coffee and tea at the resort's Tuulen Tupa Grill from noon-4pm both days.
Lapland Lake has been the recipient of numerous awards and honors including the Adirondack Regional Tourism Council's Private Sector Tourism Partnership Award; Best XC Ski Resort in the Mid Atlantic Region and Best XC Ski Resort for Families, Best XC Ski Resort Poll; Top Ten XC Ski Resort Catering to Families, xc ski resorts.com and Fulton County's Tourism Partner Award.
A complete cross country ski and snowshoe facility, Lapland Lake offers fully equipped rental and retail shops, a comfortable warming lodge with snack bar, a trailside restaurant and overnight accommodations in private housekeeping cottages.  The trail system has 50km of trails for all ability levels. 38km are marked, mapped and snowcat groomed with trackset and skating lanes; 12km are ungroomed, marked, mapped snowshoe trails. Cross country ski lessons are offered daily by the resort's staff of PSIA-certified instructors.  Other activities include ice-skating, tubing, sledding, kicksledding and wilderness ski touring.  A full winter Calendar of Special Events is also offered.
Located in the south-central Adirondacks, Lapland Lake is conveniently located just over an hour's drive from Schenectady; 60 miles from Albany and Utica; four hours from New York City and Boston.  Interested individuals may visit online at www.laplandlake.com or contact Lapland Lake for information at 518.863.4974 or vacation@laplandlake.com.