The Fulton County Baseball & Sports Hall of Fame (HOF) will be dedicating its next Fulton County Sports Historical Road Marker to denote that the World Record Northern Pike was caught on Great Sacandaga Lake.
The historic fish was caught by area angler Peter Dubuc on September 15, 1940. Measuring 52.5" and weighing 46 pounds and 2 ounces, it was the heaviest northern pike ever caught in the world at that time. Heavier fish have since been caught in Germany and Canada, and the Fulton County Fish is still recognized by the International Game Fish Assocaition as the United States record.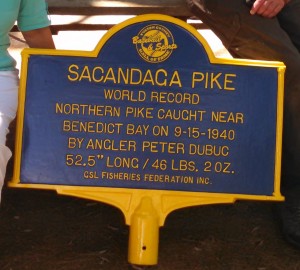 To commemorate the 75th anniversary of this historic catch, two historical road markers have been created to be placed on the Great Sacandaga Lake. The Great Sacandaga Lake Fisheries Federation (GSLFF) is the sponsor of the first marker, which will be dedicated on Saturday, September 19th at the corner of Benedict Loop and County Highway 110 in Broadalbin. According to HOF representative Mike Hauser, "We are excited to be honoring the legacy of Peter Dubuc and his historic catch 75 years ago. To know that the largest northern pike ever caught in the United States (and one of the largest ever in the world) came from right here in Fulton County is truly amazing." The ceremony will take place at noon and members of Dubuc's Family and the GSLFF will be on hand for the unveiling. The public is invited to attend. A second Marker created by the friends of Andy Luey will be dedicated in his memory later in the fall near Lanzi's on the Lake on Route 30A in Mayfield.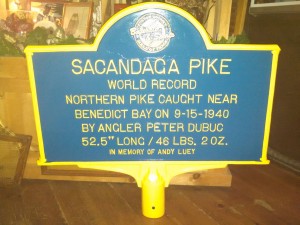 For more information visit the Fulton County Baseball & Sports HOF Facebook Page.