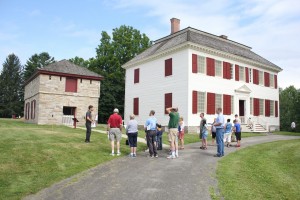 Johnson Hall State Historic Site will be hosting His Majesty's 24th Regiment of Foot on Saturday, May 5 and Sunday, May 6 from 10:00 am – 3:00 pm. The regiment will be garrisoned for the weekend in the southwest stonehouse to exercise their manual of arms, drilling as did the soldiers of King George the III over 200 years ago.  Drill will focus on marching and musketry in period uniforms and accoutrements of soldiers who served with General Burgoyne's Army from 1776- 1777.  Historic Site Manager, Wade Wells will also exhibit and discuss the diet and variety of foods that were provided to British soldiers as their weekly provisions.
For those interested in participating in living history please take note of the following!  To All Dashing High-spirited YOUNG HEROES Who Wish to obtain GLORY in the SERVICE of their Country and re-enact the American War for Independence, have now the finest Opportunity, by joining this enterprising respectable regiment. Everyone must be well aware, that this Honorable Corps, possess Advantages superior to any other under the Crown.  Good Quarters, plenty of Beef, Pudding and drink after Dinner.  Lose no Time! Therefore, in speaking to the Recruiting Officer or Col. Paul Novotny over the weekend!
Johnson Hall will be open for tours on the hour both days from 10:00 am – 3:00 pm during this event.
For more information on this event, contact Wade Wells at 518-762-8712 or at wade.wells@parks.ny.gov.
Johnson Hall was the 1763 Georgian estate of Sir William Johnson and Molly Brant and their family.  Sir William (1715 – 1774) was the single largest landowner and most influential individual in the colonial Mohawk Valley.  His success in dealing with the Six Nations had a lasting impact on their relationship with the English, and largely influenced England's victory in the Anglo-French struggle for control of colonial North America. The main house and flanking stonehouses, originally surrounded by a 700 acre farm, now interpret the Johnson family through guided tours of the period room settings, educational programs and special events.
Johnson Hall State Historic Site is located at 139 Hall Avenue in historic Johnstown, just off West State Street (State Highway 29 West).  For more information visit our Facebook page or www.friendsofjohnsonhallny.org, or email JohnsonHall@parks.ny.gov.