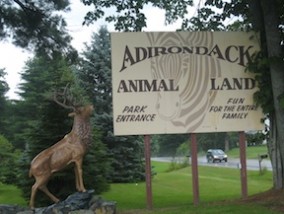 Adirondack Animal Land
3554 NY State Highway 30, Gloversville, NY 12078
Take a ride on the wild side… the Adirondacks only African Safari Drive-Thru and experience over 100 animals eye-to-eye…with amazing close encounters!  If you enjoyed our original safari ride you will love our new drive-thru!! We have doubled the size and added new animals! Drive thru at your own pace, look for new babies being born, visit with your favorites!
To have the best experience at Adirondack Animal Land, please be aware of the following special rules we have and plan accordingly.
We are a drive thru only and you enter at your own risk!! We are not responsible for any damage that may occur to your vehicle.
You must always stay in your vehicle, at all times.  Please do not allow anyone in your vehicle to hang out of windows.
Animals have the right of way, please break for them.
The zoo will be open during 2021 from July 1st to August 31st. Our hours are 11 a.m. to 4:00 p.m. Please note that the admission gates close at 3:00 p.m. so please plan ahead.
General Admission Prices (taxes included):
$12.00 per person
under 2 is free
We accept CASH ONLY (sorry, no credit cards, debit cards or personal checks). There is an ATM on site.
Directions
Our physical address is:
3554 State Highway 30, Gloversville, NY 12078
Adirondack Animal Land is a family owned and operated wildlife park designed to provide a home in all natural settings for over 500 animals and located on 80 acres of farm land nestled in the foothills of the Adirondack Mountains, near the Great Sacandaga Lake.