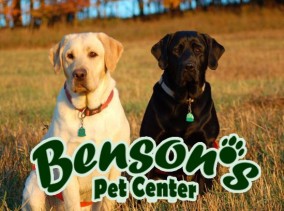 Benson's Pet Center
213 N. Comrie Ave
Johnstown, NY 12095

Benson's Pet Center is a small independent, a family-owned and operated chain of full-line pet supply stores. We've been on a mission to help you to help your pets maintain a healthy lifestyle since 1992.
We carry the supplies you need for your four-legged friends but don't worry, we didn't forget about your feathery and scaly friends… we have them covered too! We specialize in helping our customers find exactly what is best for their pets based on those particular animals' needs.
It is becoming increasingly more common for our pets to have food allergies or sensitivities to some of the ingredients in their food. Our knowledgeable staff is here to answer any of your pet-related nutrition questions and it's common to walk into our stores and hear our associates doing just that!
We carry an array of high-quality treats, food, for all your pets.