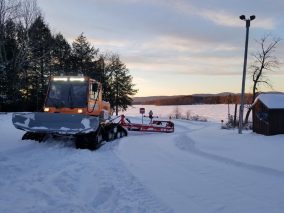 Charlton Snowmobile Club
Burnt Hills, NY 12027
The Charlton Snowmobile Club seeks to preserve and improve snowmobiling in our community. Our Club, in conjunction with the New York State Snowmobile Association and our neighboring clubs, work towards improving the trails and services for riders. We interact with our gracious landowners to ensure that our trails remain both safe and accessible to the public.
We are dedicated to providing a fun and safe environment for snowmobile enthusiasts to get together; both on the trail, and off at our various social gatherings throughout the year.
We do our part to make the New York State Trail System what it is today- miles of gorgeous, safe, and fun recreation for the whole family.
The Charlton Snowmobile Club maintains 55 miles of Class A trails in Saratoga, Fulton and Montgomery Counties. Our trails are maintained by the club members who volunteer their time. This includes  preseason work of clearing and signing the trails and fields, building bridges, performing maintenance on our equipment, and grooming the trails.