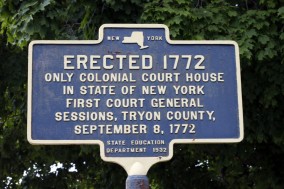 Colonial Court House
Standing near the corner of North William and West Main Streets Johnstown near the front entrance to the building, it is one of series of markers erected within Johnstown in the early 1930's (1932) on the suggestion of then City Historian John T. Morrison.
This marker denotes a very important historic site, our colonial court house, erected by Sir William Johnson 1772 when Johnstown became the seat of the newly-established Tyron County. It is the oldest courthouse in New York State and one of the oldest in the nation still being used as a courthouse. The belfry contains not a bell, but the original triangle, rung during the surrender of the British Army at Yorktown, the signing of the Declaration of Independence and adoption of the Constitution. It has been in continual use since 1772.