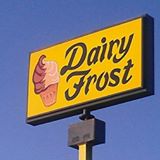 Dairy Frost Ice Cream
located at the corner of Routes 29 and 30
3708 State Highway 30
Amsterdam, NY 12010
From one family to another we get to create memories that last a life time. Dairy frost has been a tradition for many featuring our own homemade soft serve ice cream, sherbets, ices, and more.
Welcome to 2021 we can't wait to spend the summer with you!
Our Homemade Soft Serve Flavors — Made Fresh Daily!  Welcome to the 2021 Season!
Dairy Frost has changed its flavor daily for years as follows and will continue providing you with the highest and freshest quality.
Mon: Banana (made with REAL bananas)
Tues: Coffee
Weds: Orange Pineapple
Thurs: Pistachio
Fri: Lemon
Sat/Sun: Rotate between Black Rasp, Red Rasp, and Strawberry.
We also have Frozen Yogurt, No Fat No Sugar, Ices, Sherbets, and NEW 2021 Hard Ice Cream!