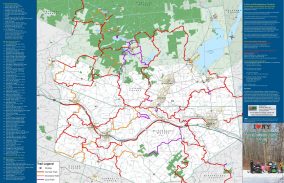 Fulton/Montgomery Snowmobile Map
Fulton County
Enjoy over 400 miles of snowmobile fun in Fulton and Montgomery Counties. A heartfelt Thank you to our residents, as many of the trails are on private land. Your generosity is extremely appreciated.
The trails are maintained by local snowmobile clubs. If you are interested in joining a club, please look on our snowmobile page for club listings.
NOTE: Not all places on left hand side of map are open at this time. Please call for update.