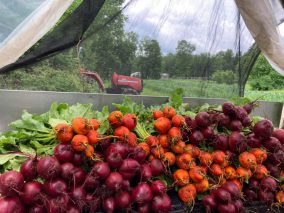 Johnson's Family Farm: JF Farm Store and Deli
132 North Main Street
Northville, NY 12134
At The Johnsons Family Farm Store you will find a complete healthy market and cafe. All of what we've offered before plus LOTS more!
Our family has been feeding the Sacandaga area since 2011. Grown in the town of Hope, we coasted down Maple Grove Rd to the sweet lil' village of Northville. We are Thankful and Blessed to be serving you! Ten years and still growing!!!  From our farm stand at the old bank parking lot on N. Main St, to moving indoors just steps down the sidewalk from where we started. Now we have the opportunity to add the love and hard work of over 40 LOCAL producers into our loving walls.
Stop on into The JF farm Store & Cafe! Whether we cook for you, or you pick up your own goodies….,We're open, and we've got you covered! Come check out our Full Boars Head Deli!
Now with endless fresh & local produce, made to order juices/smoothies, homemade soups, gourmet sandwiches, bakery, deli, & grocery/specialty items.  Come enjoy the fresh and delicious food we have to offer!