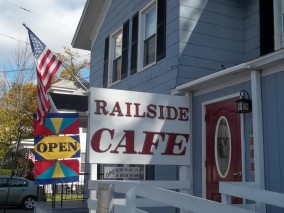 Railside Cafe'
454 North Perry Street
Johnstown, NY 12095
Serving breakfast and lunch daily.  Daily specials, soups and homemade desserts.  Breakfast served all day. Dine in or take out.
Aside from our regular menu, we offer a variety of Breakfast and Lunch Specials.
Regular Menu Items include:  salads, sandwiches, burgers, clubs and many more!
***ALWAYS CALL TO SEE WHAT OUR DAILY SPECIALS ARE***
A few of our Breakfast Specials:
Homemade Corned Beef Hash (w/2eggs and toast)
Italian Omelet
Asparagus and Cheese Omelet
Mushroom and Cheese Omelet
Broccoli and Cheddar Cheese Omelet
Spinach-Tomato and Cheese Omelet
*** ALL Omelet Special come with Home-fries and toast***
Sausage Gravy on 2 Biscuits or 2 pancakes
Canadian Bacon (w/ 2 eggs home-fries and toast)
NY Strip Steak (w/2 eggs home-fries and toast)
Buckwheat Pancakes
A few of our Lunch Specials:
Chicken and Biscuits (w/ mash pot and cranberry sauce) (THURSDAY)
Baked Macaroni and Cheese (FRIDAY)
Baked Haddock Dinner (w/mash pot and coleslaw) (FRIDAY)
Bowl Chili and Hard roll usually (MON-FRIDAY)
Liverwurst on Rye (w/ choice of salad) usually (MON_FRIDAY)
Hot Meatloaf Sandwich (WED)
Hot Turkey Sandwich (TUES)
Scalloped Potatoes and Ham Dinner
Homemade Lasagna Dinner
Roast Pork Dinner
Mushroom and Swiss Burger and FF
Beer Battered Shrimp and FF and coleslaw
Fresh Fruit and Cottage Cheese
Our Homemade Soups: Always call to see what our daily soups are.. we usually have 3 off of this list
Cream of Chicken
Cream of Broccoli
Cream of Mushroom
Tomato Macaroni
Beef Barley
Chicken Pasta
Vegetable Beef
Manhattan Clam Chowder
New England Clam Chowder
Bean Soup
Corn Chowder
French Onion Soup
Homemade Pies: Again… Call to see what pies we have daily
Coconut Creme
Chocolate Creme
Banana Creme
Lemon Creme
Blackberry
Cherry
Apple
Pumpkin
Strawberry Rhubarb
Raspberry
Blueberry
Pecan
Specialty Homemade Cakes:
Chocolate Cake
Carrot Cake
**************************************************************
We also bake whole cakes and pies for your special occasion, Just call ahead to order.