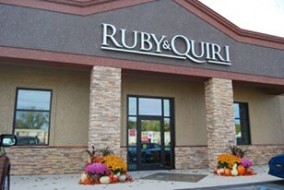 Ruby & Quiri, Inc.
307 North Comrie Avenue
Johnstown, NY 12134
Ruby & Quiri is the largest complete home furnishings center in Upstate New York. We are a family owned and operated retailer of furniture, bedding, floor covering, appliances, electrics and lighting. We focus on three things: having the most knowledgeable and caring employees, constantly measuring and improving our performance and selling at national chain store prices. This combination ensures our customers have the best experience possible at the lowest cost. It's a combination you won't often find.
When my mom and dad started our company in 1949, they saved their customers money while giving the most personal service available. A lot has changed since then, but at Ruby & Quiri, you will still find that service and the lowest price.
At R&Q, we have people that care. We have created an environment that is fun and rewarding for our team. In fact, the average length of service for our entire team of nearly 50 people is over 7 years. The longest (after myself) being here for 28 years, six members have been here for over 20 years and another six for over 10 years! Our experienced team is knowledgeable and committed to providing you with better experience.
People ask me all the time how we can really have the lowest price. It would be hard if we did it alone, and that's why we belong to two of the largest formal buying groups with thousands of companies like Ruby & Quiri across the country. Collectively, we use our multi-billion dollar buying power to negotiate pricing comparable to the national chains.
At Ruby & Quiri we strive to sell quality products to meet our customers' needs, provide a better experience than our competitors, and not charge any more for it. And if we ever fall short of our goals, please let me know.
Thanks for shopping with us,
Rick Ruby
518-365-1139 (cell)
518-835-4480 (home)
rruby@randq.com