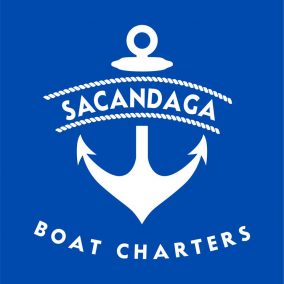 Sacandaga Boat Charters
Great Sacandaga Lake
Lanzi's on the Lake Marina
1751 NYS Route 30
Mayfield, NY 12117
Sacandaga Boat Charters Welcome You!
Charter your private tour with Captain J aboard the "Sunset Beach" a beautiful 28′ open bow Regal boat.
Meet Captain J
Hi all!  I'm Jason Hayes. My love for the lake was the reason for starting this charter business. I am a third generation boater and a Great Sacandaga Lake native. My love for the lake started when I was a child.
My mom grew up going to Sand Island for Sunday night dinners with the whole family, they would bring the pack and play, water to boil on a fire, pasta, and Sunday sauce. I now have a family of my own and love to share my knowledge of the lake and watch their love for the lake grow year after year.
Sacandaga Charters offers 2 hours or more custom boat tours starting from Lanzi's on the Lake Restaurant. We cater to families, group events, private parties, team building, and work events. Customize your tour today!
U.S Coast Guards Captains License & fully insured!
Private Tours
Tours of Islands and Bays
Swimming and Tubing
Bar Hopping
Water Taxi to Sand Island
Sight Seeing
View The Bald Eagles (If they're not out fishing)
Picnic On Sand Island
Weddings
Photo Shoots
And Even More!
About the Experience
Our 28-foot Regal holds up to 8 passengers, life jackets are provided for adults please inquire about children's life vests. We do have life jackets for those less than 20lbs, but feel free to bring your own. You are able to bring your own food, beverages, ice, and a small cooler. We will provide an additional cooler at no charge. Alcohol is permitted for guests 21 and older. You are able to provide your own playlist if you wish or captain's choice of reggae!
Weekday Specials 3 Hours or more receive $20 Gift Certificate to any of The Lanzi Establishments located on the lake!
Departure and return location is at Lanzi's on the Lake. We run 2-hour tours to all-day tours. Our 3-hour tour is the most popular. Please feel free to call for custom requests and or questions you may have regarding the time of your tour. We accept Cash, Venmo, Discover, MasterCard, Visa, and American Express. We provide a small cooler, you should bring your own as well as any food, beverages, ice, snacks and paper goods. Sunscreen, swimsuits, towels, proper clothing for weather, sunglasses and anything else you'd like to bring.