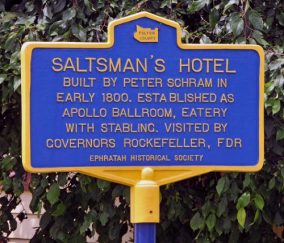 Saltsman's Hotel- Historical Marker
Junction of Route 67 and Route 10 in the town of Ephratah.
Saltsman's Hotel – Built by Peter Schram, in early 1800. Established as the Apollo Ballroom.  Was visited by NY Governors Rockefeller and FDR.
This historical marker is located at Saltsman's Hotel.  It is only a 10 mile drive north on Route 10 from the Canajoharie exit on the NYS thruway (Exit 29), or a 10 mile drive following Main St, on Route 67  out of historical Johnstown.
The Saltsman's Hotel is celebrating over 200 years as a destination restaurant! Saltman's seasonal operation is from Easter-Halloween.