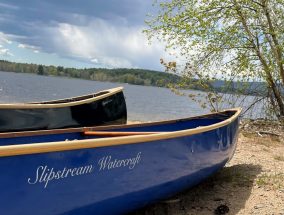 Slipstream Watercraft
Slipstream's Kennyetto Creek Outpost
31 South 2nd Avenue, Broadalbin, NY 12025

Because Slipstream Is A Manufacturer all Sales, Pick-ups & Demos are best by appointment.
Slipstream Watercraft, Phone 518.423.8827, Email:  slipstreamwatercraft@gmail.com
Sales, Demo's & Pick-ups At:  31 S. 2nd Avenue, Broadalbin, NY
15 minutes north of Exit 27 off the NYS Thruway
(call 518.423.8827 for directions & appointment)
Slipstream Watercraft . . . combining high-tech materials with exciting and elegant designs. Canoes and kayaks that are truly gratifying to paddle. Fast, quiet and pretty . . . ultra-light boats that will reward you on and off the water.
The Slipstream mission is to supply you with a craft that will bring you great joy and appreciation every time you paddle. We believe being on the water is the best way to observe, photograph, explore, clear out the cobwebs, fish, exercise, relax . . . whether you're looking for exhilaration or a carefree cruise . . . paddling will bring your spirit, mind and body to a state of absolute peace and harmony. Refresh!