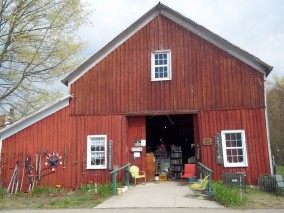 The Red Barn
202 South Main Street
Northville, NY 12134
The Red Barn is an 1860s livery stable, part of a four-building complex.
Depression-era items such as glassware, antique furniture, wicker, baskets, second-hand furniture, dolls, and old postcards and books.
Reproduction tin toys and hardware, hand-knit children's sweaters, and Dover activity books for children, amidst a fascinating stock that changes daily.
Sterling silver jewelry, Adirondack sweatshirts, t-shirts, and hats, kerosene lamps, adirondack crafts and candles.
Article sold on consignment. Please check Facebook page for hours of operation.