Lapland Lake Nordic Vacation Center will host a women's-only cross country ski program Saturday, January 23 from 9:30am – 2:30pm. Pre-registration is required. The popular five-hour ski program, "Lapland Ladies Love to Ski", is geared to first-timer through intermediate skiers ages 18+. Focus is on classic ski technique.
Cost for the program is $50.00 or $73.00 if participants need rental equipment. Included is a day-long facility use pass, instruction, lunch with equipment & clothing discussion, social group ski with instructors, group wrap-up, hot beverage and discount coupon for new equipment purchase. The program is led by Lapland Lake's PSIA-certified instructors Sherry Dixon, Susan Henriksson and Jan Mares. Program is pre-paid and 100% refundable if there is no snow.
"Come learn to classic ski or come to improve your skills in our supportive, non-competitive environment. This program is ability grouped and taught by women, for women," according to Susan Henriksson.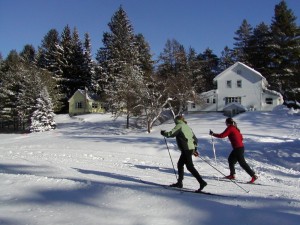 Also on Saturday, January 23, Lapland Lake Nordic Vacation Center will offer a Full Moon Guided Evening Snowshoe Tour.
Package includes snowshoe rentals and guided, gently paced night time snowshoe tour to a lakeside campfire. Roast s'mores and enjoy light snacks at the campfire. The tour begins at 6:30pm and runs until 8:30/9pm. Arrive early and enjoy a complimentary pre-tour appetizer at the resort's Tuulen Tupa Grill.
Cost for the tour is $34.00 ($28.00 if you provide your own snowshoes). Ages 18+, please. Space is limited; reservations are a must! Please bring headlamps if possible. We have a limited number to loan on a first-come, first-served basis.
A complete cross country ski and snowshoe facility celebrating its 38th winter season, Lapland Lake offers fully equipped rental and retail shops, a comfortable two-story warming lodge with snack bar and trailside Tuulen Tupa Grill. The trail system has 50km of trails for all ability levels. 38km are marked, mapped and snowcat groomed with trackset and skating lanes; 12km are ungroomed, marked, mapped snowshoe trails.
In addition to cross country skiing and snowshoeing, other resort activities include ice-skating, tubing on two junior hills and visiting with the resort's domesticated reindeer!
Lodging is available in private rooms and 10 housekeeping cottages.  Lodging packages include use of trails each day and evening including days of arrival and departure, use of the Finnish wood burning sauna and discounted ski lessons.  Attractive lodging discounts are offered midweek.
Lapland Lake has been presented with numerous awards:
North America's Top 10 Snowshoe-Friendly Nordic Centers (#4), Snowshoe Magazine
The Adirondack Regional Tourism Council's Private Sector Tourism Partnership Award
Tourism Partner Award, Fulton County Regional Chamber of Commerce & Industry
"Best XC Ski Resort in the Mid-Atlantic Region" and "Best XC Ski Resort for Families", Best XC Ski Resort Poll
"Top Ten XC Ski Resorts Catering to Families", xcskiresorts.com.
Located in the south-central portion of the Adirondack Forest Preserve, Lapland Lake is just over an hour's drive from Schenectady; only 60 miles from Albany and Utica; four hours from New York City and Boston.
Lapland Lake may be contacted at 518-863-4974, vacation@laplandlake.com and online at www.laplandlake.com.