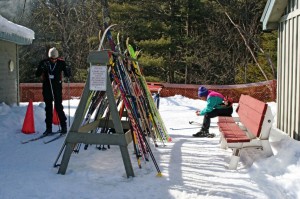 Lapland Lake Nordic Vacation Center will host Winter Trails Day on Saturday, January 10 from 1:00pm – 4:30pm. Winter Trails Day is a national event offering those new to snow sports an opportunity to try cross country skiing and/or snowshoeing.
Facility use passes, cross country ski or snowshoe rentals and hour-long cross country ski lessons for adults and children from age 5 will be offered free of charge to first-time participants who register in advance. Pre-registration is required.
A new program designed to introduce members of the public to snowshoeing is scheduled Sunday, January 11 from 10-11am at Lapland Lake Nordic Vacation Center.
The resort's fun and educational "Introduction to Snowshoeing and Animal Tracking Tour" is intended for novice snowshoers. Participants will be fitted with snowshoes and poles, and a staff member will lead members of the group along the resort's picturesque, easier marked and mapped snowshoe trails allowing participants to become comfortable with equipment and technique.
The tour will wend alongside brooks, streams and near scenic Woods Lake. A brief stop along the way will give guests an opportunity to meet and greet Viima, the resort's resident reindeer. Each participant will receive an animal tracking guide to assist in identifying the many animal tracks that may be seen along the way.
Cost for the program is $23 and includes rental snowshoes and poles, guided tour, animal tracking guide and hot beverage. Facility use pass is additional. Participants are welcome to retain their snowshoes for the balance of the day or to exchange them for another set of rental gear to enjoy another activity (rental surcharge may apply). It is recommended that participants bring along water and an energy snack.
The tour is prepaid and is 100% refundable if the program is cancelled for any reason. Minimum age to participate is 12. Preregistration is required; space is limited.
Lapland Lake Nordic Vacation Center will host a women's-only ski program Saturday, January 24 from 9:30am – 2:30pm. Pre-registration is required.
The popular five-hour ski program, "Lapland Ladies Love to Ski", is geared to beginner and intermediate skiers. Focus is on classic ski technique.
Cost for the program is $50 or $73 if participants need rental equipment. Included is a day-long facility use pass, instruction, lunch with equipment & clothing discussion, social group ski with instructors, group wrap-up, hot beverage and equipment discount coupon. The program is led by Lapland Lake's PSIA-certified instructors Sherry Dixon, Susan Henriksson and Jan Mares.
Future programs are scheduled for February 21 (classic ski technique) and March 14 (skate ski technique). Women are encouraged to participate in one, two or all three programs!
A complete cross country ski and snowshoe facility celebrating its 37th winter season, Lapland Lake offers fully equipped rental and retail shops, a comfortable two-story warming lodge with snack bar and the trailside Tuulen Tupa Grill. The trail system has 50km of trails for all ability levels. 38km are marked, mapped and snowcat groomed with trackset and skating lanes; 12km are ungroomed, marked, mapped snowshoe trails.
In addition to cross country skiing and snowshoeing, other resort activities include ice-skating, tubing on two junior hills, wilderness ski touring and visiting with the resort's domesticated reindeer!
Lodging is available in private rooms and 10 private housekeeping cottages. Lodging packages include use of trails each day and evening including days of arrival and departure, use of the Finnish wood burning sauna and 50% off one regularly scheduled group ski lesson per person. Attractive lodging discounts are offered non-holiday Sunday through Thursday nights.
Lapland Lake has been the recipient of numerous awards and honors through the years including Top Ten Snowshoe-friendly Nordic Center by Snowshoe Magazine, the Tourism Partner Award by the Fulton County Regional Chamber of Commerce, the Adirondack Regional Tourism Council's Private Sector Tourism Partnership Award; Best XC Ski Resort in the Mid-Atlantic Region and Best XC Ski Resort for Families, Best XC Ski Resort Poll; and Top Ten XC Ski Resort Catering to Families, xc ski resorts.com.
Located in the south-central portion of the Adirondack Forest Preserve, Lapland Lake is just over an hour's drive from Schenectady; only 60 miles from Albany and Utica; four hours from New York City and Boston.
To make reservations or for additional information, please call Lapland Lake at 518-863-4974, email: vacation@laplandlake.com or visit online: www.laplandlake.com.